MOISTURESHIELD COMPOSITE DECKING – ROCHESTER, SYRACUSE, AUBURN NY

Add Beauty, Strength & Customer Satisfaction to Your Outdoor Living Structures.
MoistureShield Composite Decking
Install it On the Ground, In the Ground, or Underwater!
Secor Lumber is one of the only retailers in the greater Rochester, Syracuse and Finger Lakes Region in Upstate New York to offer out contractor customers MoistureShield Composite Decking, one of the highest quality composite decking products in the nation.
MoistureShield is a top composite deck manufacturer whose product lines blend rich colors, proven performance, and affordable options for any style preference. MoistureShield was one of the early innovators of composite decking materials and continues to produce brilliant decking boards to suit all applications. What makes MoistureShield unique? MoistureShield Composite Decking the only decking product durable enough to be installed on the ground, in the ground, or underwater.
The Secor Lumber team can help you discover the advantages of MoistureShield. As you consider a composite deck design, speak to one of our qualified decking sales representative about MoistureShield composite materials for your deck building. We can also answer your questions regarding MoistureShield composite decking prices.
Discover the MoistureShield Vantage Composite Decking Collection, composite decking materials offering the look of wood with stronger durability, water resistance and less maintenance: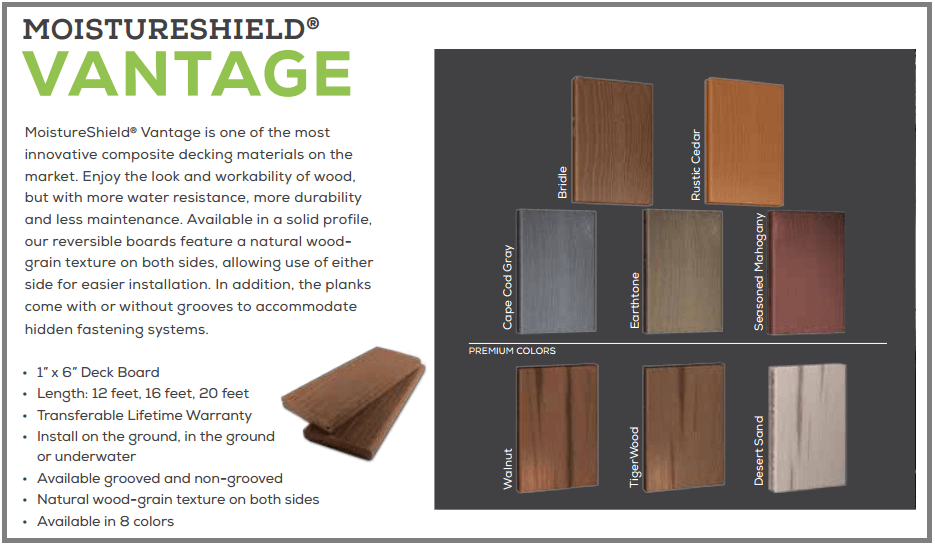 The MoistureShield Pro product line offers additional protection and durability for your composite deck design.
MoistureShield Essentials gives you the high performance of MoistureShield composite decking at an affordable price, making it ideal for a number of lightweight residential construction projects.
MoistureShield offers a variety of composite deck boards and railing accessories to help you finish your deck build.
Discover the MoistureShield Decking Difference
MoistureShield® decking products make the great outdoors even greater by inspiring care-free living while making a statement. Built to be tough yet beautiful, our durable composite decks outperform and outclass your run-of-the-mill composite, maintenance-heavy wood or plastic-like PVC decks. This innovative vision is why in MoistureShield's long history, they have never had a field failure. And it's why we are proud to offer it to our customers.