BUILDING CUSTOM OUTDOOR LIVING STRUCTURES

Add Beauty, Strength & Customer Satisfaction to Your Outdoor Living Structures.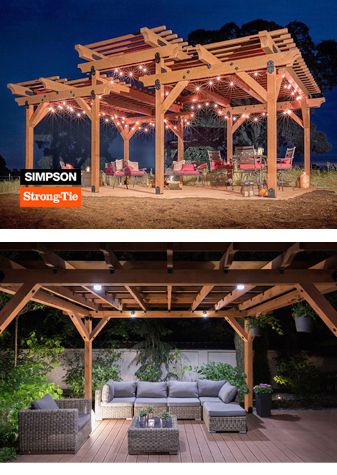 Custom Outdoor Living Structures at Secor
At Secor, we are particularly proud to partner with Simpson Strong Tie to offer one of the best and most profitable outdoor living solutions for our builders and contractors. With Simpson StrongTie Outdoor Accents®, a new line of decorative wood connectors and fasteners, you can now bring both design elegance and structural strength to your outdoor living projects and areas.
This hardware accommodates 4x and 6x lumber sizes, providing the flexibility you need when designing and building custom outdoor structures.
Key Features
Post bases secure wood columns to concrete, while providing a 1″ standoff height that helps reduce decay
Flat T and L strap ties bring decorative appeal and lateral strength to your outdoor living space or even an indoor project
Fastener and washer create decorative bolt-like connections, but install with the ease of a screw and without predrilling
Structural strength tested and approved to meet stringent building codes for high-wind or seismic conditions
Galvanized steel with a black powder coat provides corrosion protection
Patent-pending design facilitates easy installation
Talk to your dedicated Secor Contractor and Builder representative today and see how we can help you drive customer satisfaction, referrals and profitability during the Outdoor Living construction season.