Edge Safety Sunglasses – Fashionable. Polarized.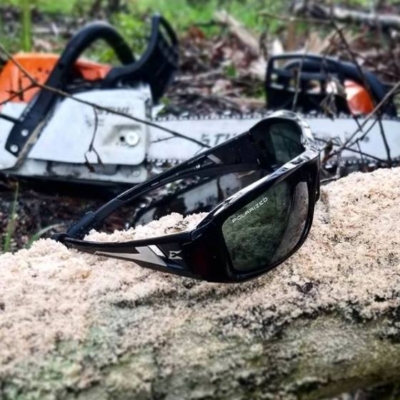 Edge Safety/Sunglasses are a "fashionable" safety glasses that are manufactured for sports, construction and active lifestyle industries. They offer a level of technology like to which has never been seen before in protective eyewear. The lenses are constructed to offer unique light management properties, and the frames are made to give the user exceptional comfort. For over 25 years Wolf Peak International Inc., the manufacturer of Edge Safety Eyewear has been breaking new ground.
Ideal for Outdoor Work & Leisure
They were the first to offer polarized safety glasses that are ideal for work and outdoor activities such as snowmobiling, hunting, and sports fishing.
They have also been the first to offer safety glasses that offer blue light filter technology, often referred to as "blue blocker" this is the G-15 technology that was developed by the US Air Force and is a technology that is referred to as Aqua Precision designed by NASA.
Most people that search for Edge Eyewear are looking for Safety Glasses. They offer great protection for everyday wear, hunting and on the job site against chemicals, particles, water or harmful substances from getting into your eyes. The glasses feature a wrap-around design with contoured, flexible temples for safety and comfort. They offer customers a wide range of temples, frame designs, lens coatings safety glasses.
You get:
• Mil-spec and Ansi Z protection
• Real Comfort
• Protection that looks as good as you do
The tough and flexible frames of the Edge Eyewear safety glasses fit comfortably with a style that looks as cool as you are. All of Edge Eyewear safety glasses comply with the American National Standards Institute's Z87.1 2003. This is the highest standards for safety glasses. They work to create glasses that offer both UV and high impact protection as a way to cut down on eye injuries. The lenses have a special coating that prevents them from fogging up when you are working hard.
Don't let your work safety glasses hold you back.
No one expects an accident before it happens. Protect yourself from what you don't see coming, and look good doing it.
Edge Dakura Safety Glasses
The Edge Dakura Safety Glasses have become the hottest eye protection safety glasses in the USA for good reason. These stylish safety glasses look good anywhere, they offer a wrap-around frame designed to give you clear peripheral vision. No side shield that can obstruct your view. The Dakura eyewear carries a durable polycarbonate lens coated with an anti-fog, anti-scratch layer. Not only do you get superior fashion but you get UVA, UVB and UVC protection that complies with ANSI Z87.1 2003 safety standards. The frames are constructed with a lightweight Grilamid / Nylon compound, with a straight-temple design that doesn't apply uncomfortable pressure. The versatile design makes them perfect to have a pair at work, a pair at home and you can use them as sunglasses. The Edge Dakura Safety Glasses have a leading-edge style that will turn heads anywhere you wear them.
Specifications for Edge Dakura Safety Glasses:
Standards:
• ANSI Z87.1 2003
• Features of Edge Dakura Eye Protective Glasses:
• Lightweight polymer frames
• Tough polycarbonate lenses
• Anti-Fog, Anti-Scratch coating
• Fully compliant with ANSI Z87.1 2003 safety standards – High Mass Impact, Ball Drop Impact, High-Velocity Impact
• Soft and pliable Megol in nose pads, temple tips
Package Contents:
Edge Dakura Safety Glasses